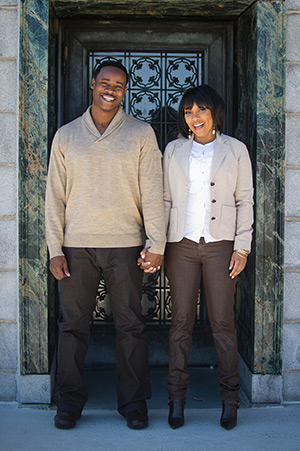 Ray and Michelle McElroy have been coaching couples since 2008. It all began with coaching NFL players and their wives through their non-profit, A Ray of Hope on Earth. From there it spawned into Ascender, a transition program for professional athletes from sports to corporate careers. As the McElroy's encountered more and more marriages Michelle saw a need for a resource hub that is readily available to husbands and wives daily. "Marital upkeep isn't achieved through an annual conference. It needs routine checkups throughout the year," says AIM founder Michelle. Now the power couple is sharing their experience, knowledge and connections through AIMarriages, Inc.
Michelle is a graduate of Eastern Illinois University with a Bachelor Degree in Arts and a Master's Degree of Science in Education, specializing in Community Counseling. She also has a Bachelor degree in Biblical Studies from North Carolina College of Theology and is a licensed, ordained minister. In order to stay current in her field she has attended several coach developmental programs and has achieved her LCS, Leadership Coaching Specialist certificate from Xcellero Leadership, which is approved of by The International Coach Federation (ICF).
Currently, Michelle continues to coach individuals and couples, athletes and non-athletes around a variety of topics but specifically focused on marriage. She partners with her husband as leaders of the Soulmates Marriage Ministry at Fellowship Chicago Church and she serves on the board of A Ray of Hope on Earth, a non-profit organization that focuses on youth and professional athlete development. The servanthood that brings her heart most joy is being a wife to a wonderful man of God for 20+ years and a loving mother of four beautiful children!